A guided tour of Paradise
Our sports and leisure programme also includes several hikes with expert and qualified guides.
From the mountain tops, the view to the surrounding mountains and the valleys at your feet is just superb. Dreiherrenspitze, Rötspitze, Hochgall, Ahrner Kopf, Dreiecksspitz, Moosstock, Wollbachspitze… all these mountains and many more are waiting to be climbed. The choice is huge, with more than 80 3,000m-high peaks reaching towards the sky and offering a jaw-dropping 360° view. There is plenty to enjoy for families too, with a wealth of themed trails like the "Das Mühlbacher Talele" above the village of Gais, the "Hexensteig" near San Giovanni/St. Johann and the Leonardiweg trail near San Giacomo/St. Jakob. There is nothing for it but to be captivated, let one's thoughts wander free and forget the everyday humdrum.
Looking forward to a summer holiday in the Dolomites? Come discover the endless hiking tracks of South Tyrol.
You'd rather pedal through the marvels of the South Tyrolean mountains? Great! Stand by to be amazed by the scenic mountain bike tracks that make South Tyrol a much sought-after biking Mecca!
Can't resist the appeal of altitude? The lift of the hiking resorts Speikboden, Klausberg and Plan de Corones/Kronplatz will take you there where you long to be. Ready to explore new heights in South Tyrol?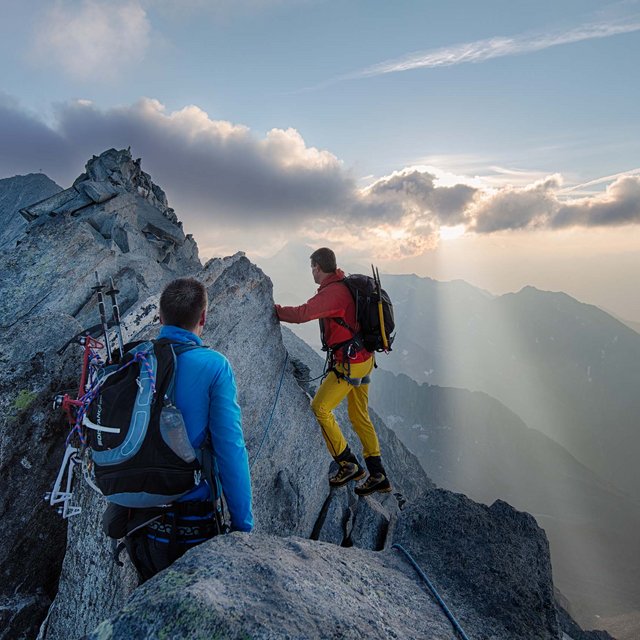 3,000m mountains in the Valle Aurina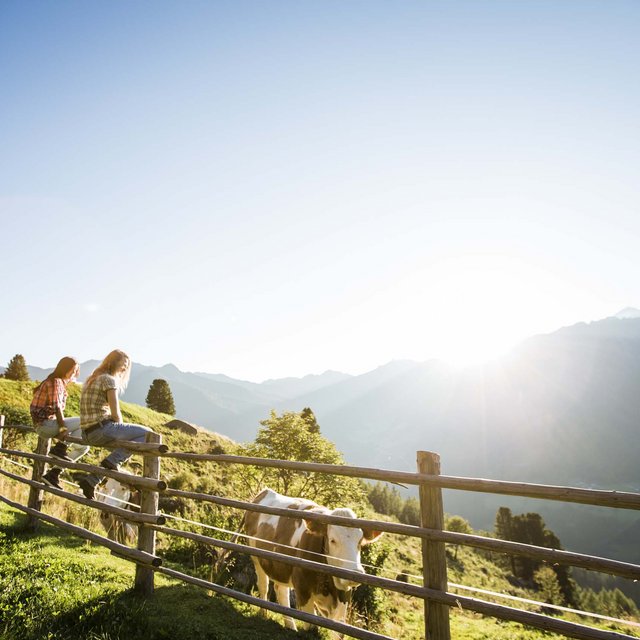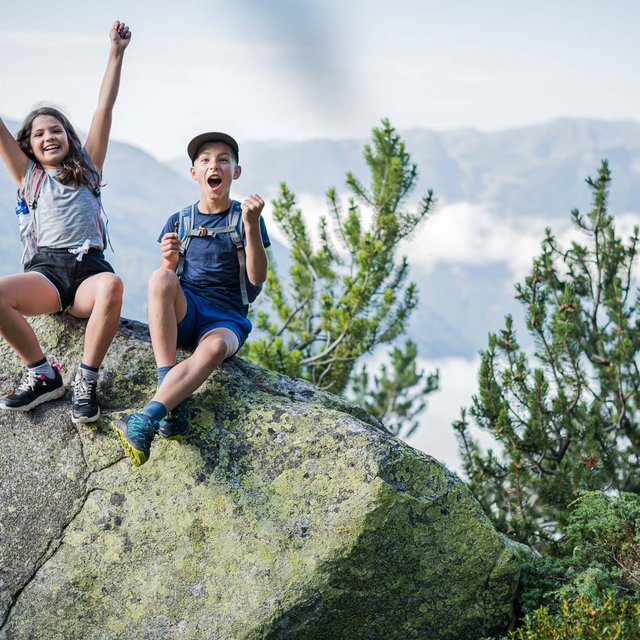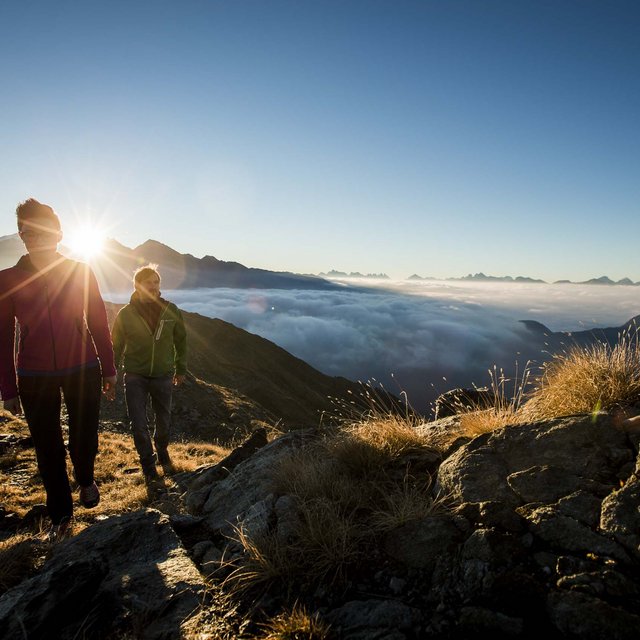 guided hikes a week in summer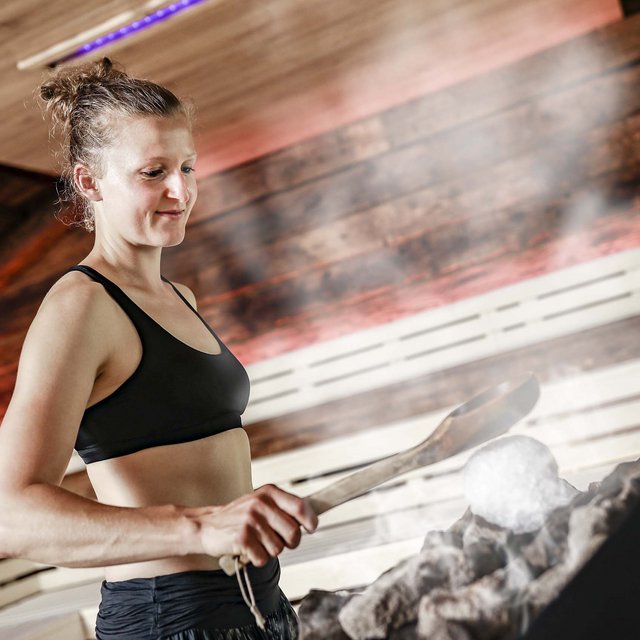 sauna infusions every day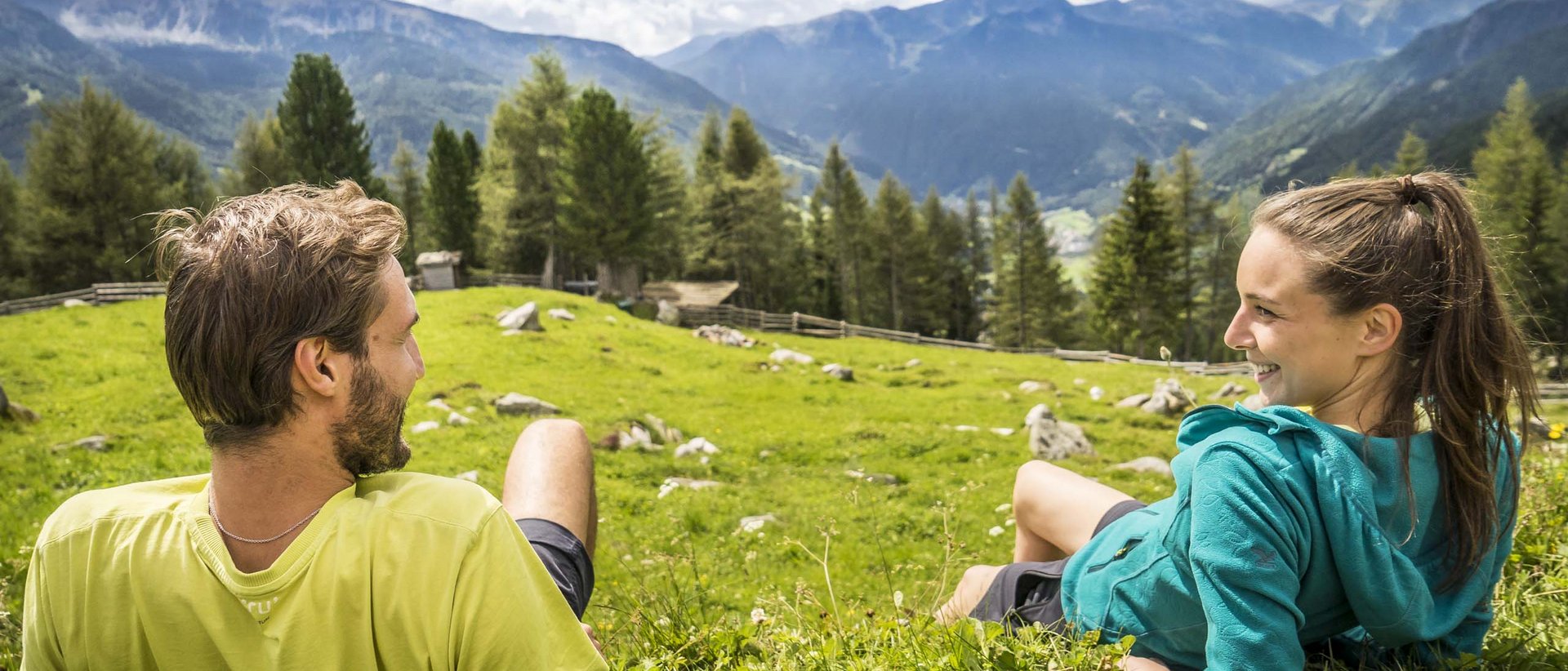 Hiking in South Tyrol, Dolomites: better than in dreams!
Hiking: South Tyrol at its best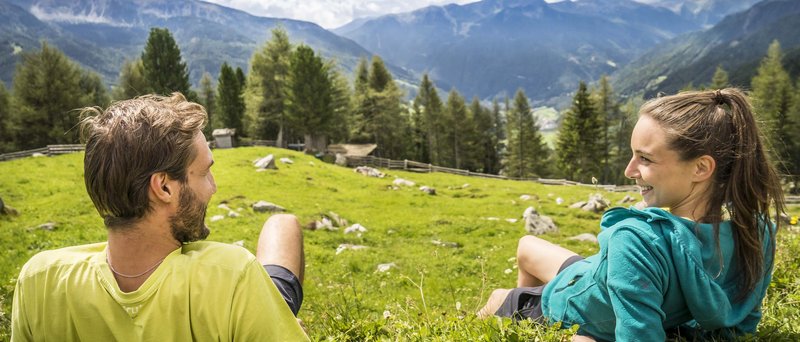 Hiking in South Tyrol, Dolomites: better than in dreams!
For those who come hiking in South Tyrol, the area surrounding our wellness & spa hotel Schwarzenstein in Valle Aurina has in store a number of hiking and Nordic walking routes, ranging from leisurely walks to challenging trails. The Rieserferner-Ahrn Nature Park, the Dolomites and the Zillertal Alps offer countless options for top hiking experiences in South Tyrol, including pleasurable alpine walks, panoramic Nordic walking routes and high-altitude glacier tours.
4-star-S services and competent guides for your hiking holiday
Monday to Friday, our experienced alpine guides take you to breathtaking hiking trips in South Tyrol's striking nature – experiences you will remember and share with your friends through awe-inspiring photos! Please consider that hiking in South Tyrol requires appropriate equipment: Suitable footwear, headgear, warm clothing, a change of clothes, a rain coat and plenty of water or soft beverages are strongly recommended when you venture hiking in South Tyrol's mountains and woods. To make sure you are fully equipped for your hiking adventures in the mountains, we provide you with the following free amenities:
Rucksacks
Hiking- and Nordic walking poles
Crampons
Climbing harnesses
Pickaxe
Ropes
Climbing sets
We also make available:
A hiking map in your room
An updated hut guide with over 60 huts in Valle Aurina/Ahrntal
A digital info point for hiking and MTB tours etc.
Professional consulting offered by our hiking guides
In case you require more specific apparel and accessories, you can visit the nearby mountain sports shop, where you will be given comprehensive advice. When you return from your hiking trips, you can hang or keep your hiking wear and shoes in our lockers.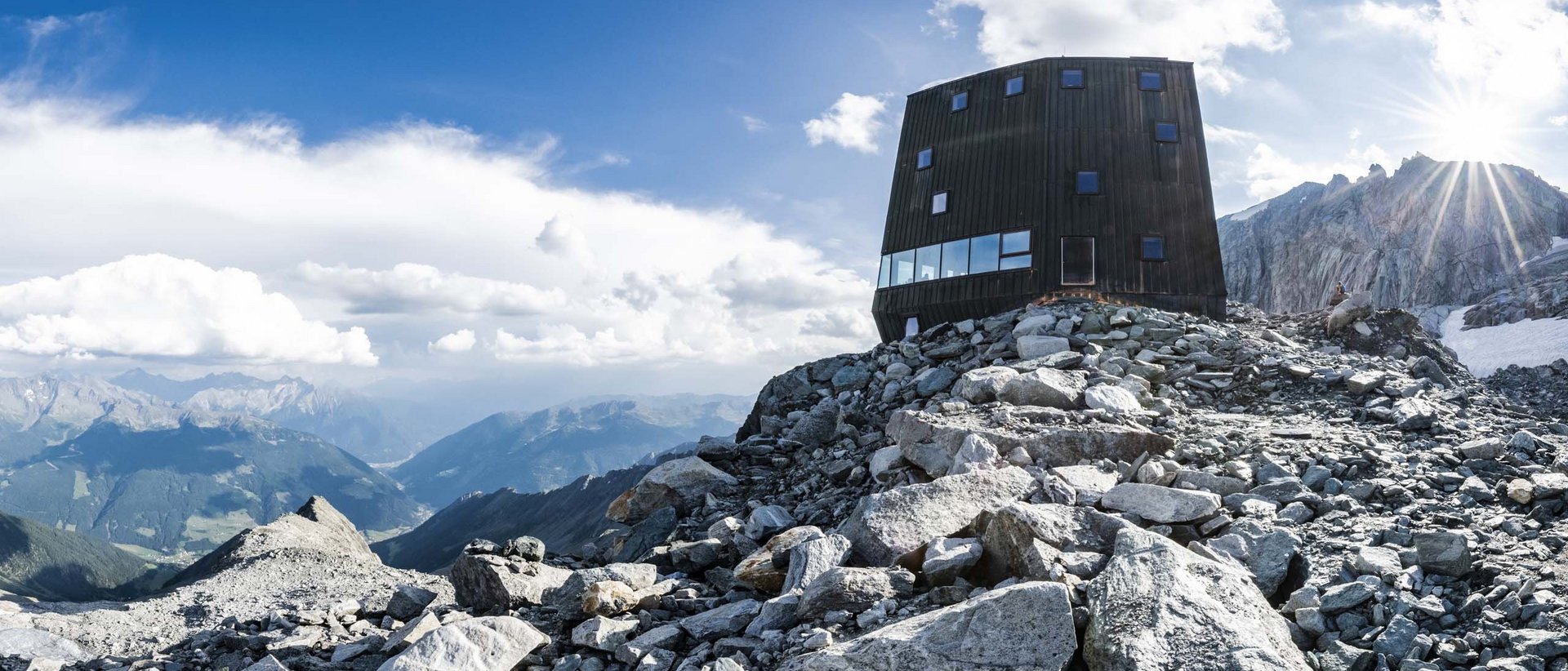 New Schwarzensteinhut (over 3.000m)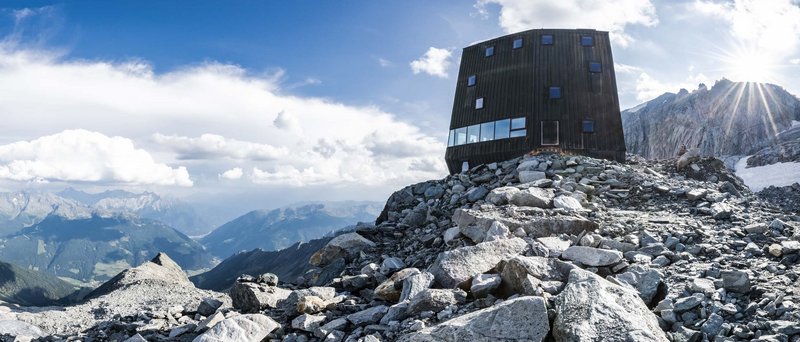 New Schwarzensteinhut (over 3.000m)
The all new Schwarzensteinhut in the Ahrntal Valley is the new mountain attraction in South Tyrol. Based on the modern and alpine architecture it becomes a alpine hot spot for mountaineering.
Free public transportation for your holiday in South Tyrol
The HolidayPass Premium, included in our hotel rates, grants free use of all means of public transportation in South Tyrol. In addition, our weekly activity programme includes the free shuttle service, which drives you comfortably to and from the starting point of your hiking trips in South Tyrol's nature. What more could a hiker wish for?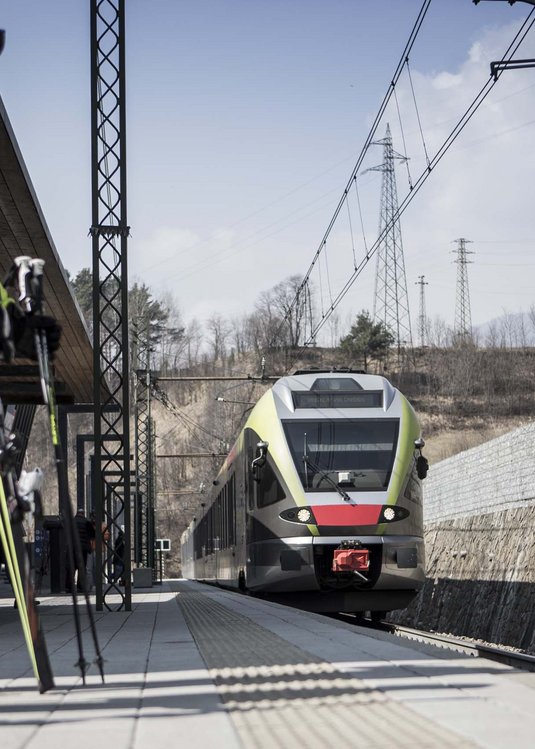 The Rieserferner-Ahrn Nature Park – a real gem
Our hotel is just a stone's throw from the Rieserferner-Ahrn Nature Park, an authentic paradise of natural beauty and amazing variety. Stretching across an area of more than 315km², the park features countless peaks at varying altitudes, shady forests, verdant alpine meadows, shimmering lakes, babbling creeks, and cosy mountain huts… in short, all one could dream of for their summer holiday!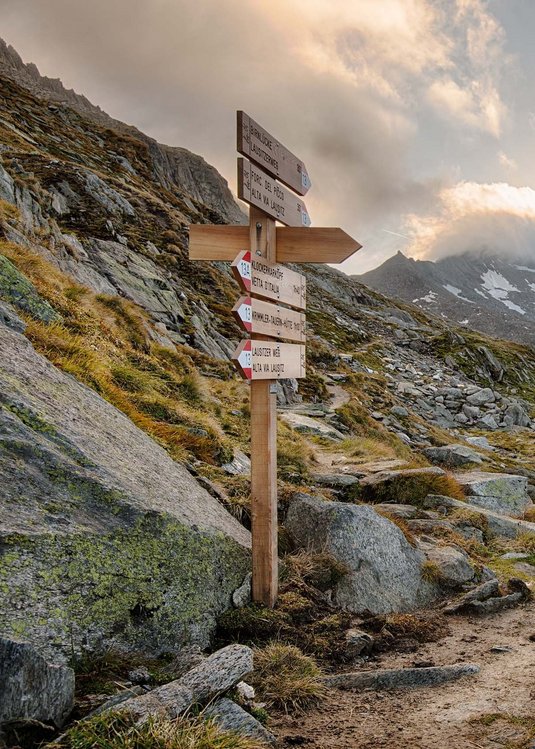 Wellness at our 4-star-superior hotel in South Tyrol
If you enjoy spa pleasures as well as outdoor exercise, our wellness hotel in South Tyrol is the perfect choice for you! After a long trek or Nordic walking hike, there's no better way to soothe sore muscles than to indulge in our vast spa area for a while. Take a dip in our indoor and outdoor pools, treat yourself to a healthy sauna session and savour the regenerating silence in our oases of quiet. Exploit the full potential of a spa holiday in South Tyrol choosing from our range of treatments, administered by friendly, competent professionals.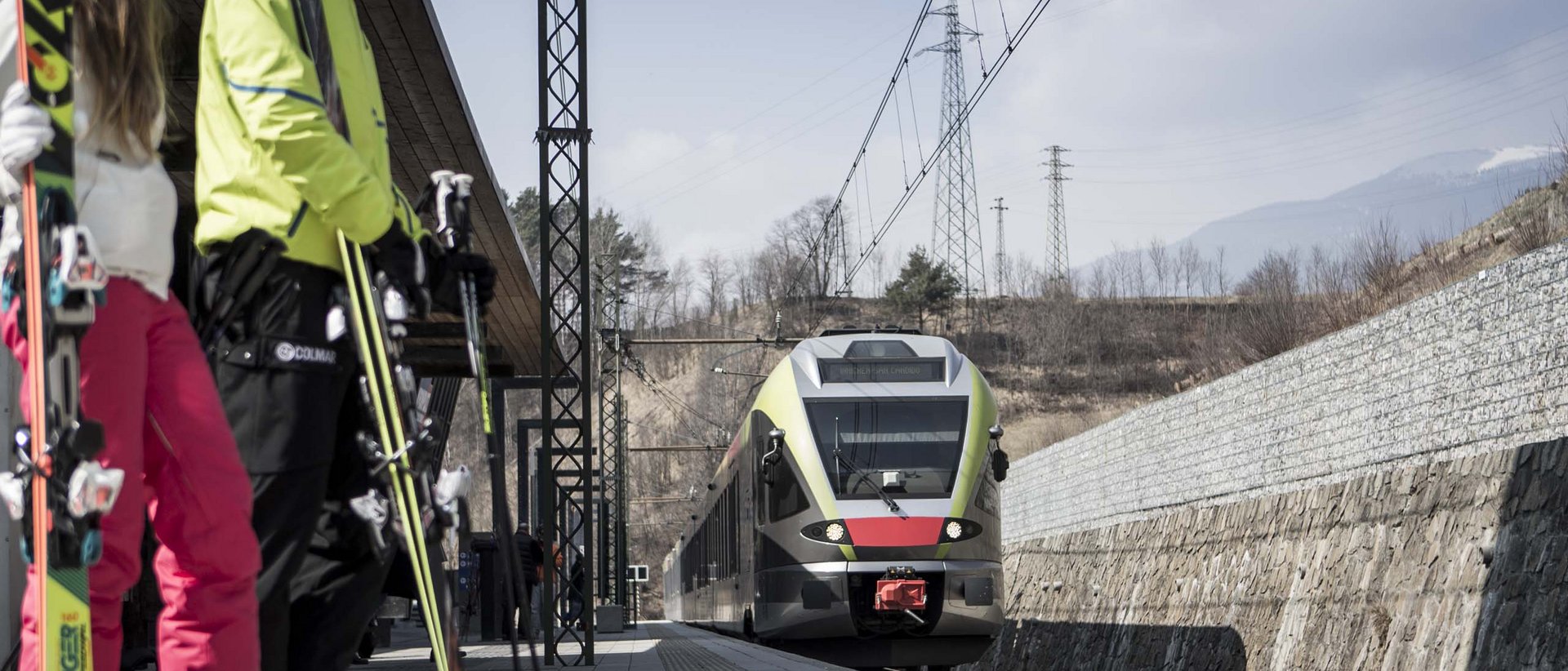 HolidayPass incl.
Free use of buses and trains in South Tyrol!